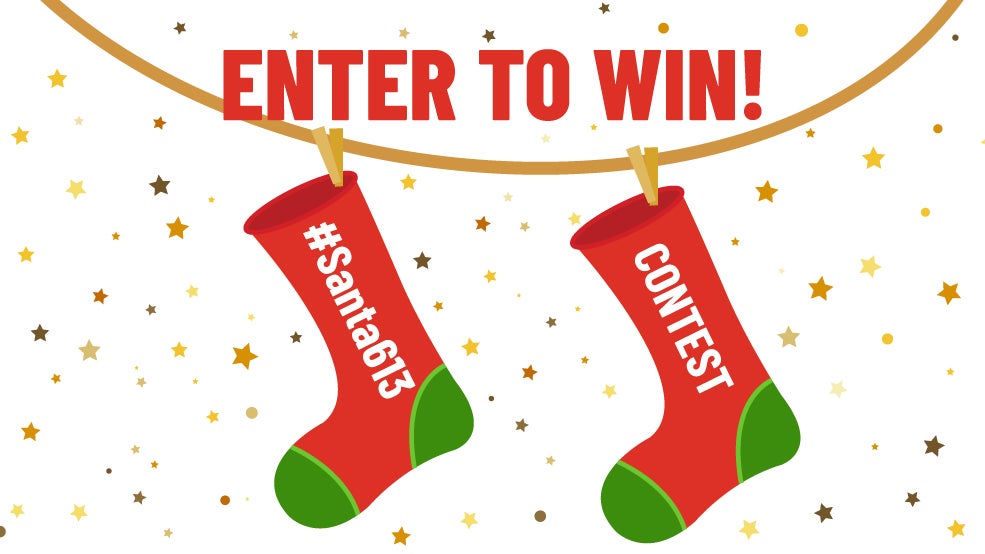 #Santa613 holiday contest
Celebrate local and win great Ottawa gifts!
What local Ottawa gift would you like to see in your holiday stocking this year?
The holiday season is here, and we want to spread the cheer with our #Santa613 contest! Enter to win 1 of 4 Holiday stockings filled with Ottawa items from our Top 10 stocking stuffers list! From locally roasted coffee beans and delicious baked treats, to all you need for a fun staycation in the city, our #Santa613 stocking is full of awesome Ottawa goods that help support local.  
Contest Dates: November 19-December 16, 2020
Week 1 contest period: Nov 19-25 
Week 2 contest period: Nov 26- Dec 2 
Week 3 contest period: Dec 3-9 
Week 4 contest period: Dec 10-16 
One winner will be selected from entries submitted during each weekly contest period.
Social Media
Tell us what local Ottawa gift you would like to see in your stocking this holiday season, post it to your Instagram or Twitter channel, tag the post #Santa613 and you'll be automatically entered to win!
There are an unlimited number of social media entries, so tell us all the great local goods you'd like to see in your stocking for more chances to win! Be sure to tag your favourite local small businesses in your posts to help spread the love. 
WEEK 1
Winner: Kathryn F. from Ottawa, Ontario
Stocking stuffer of choice: "Treats from local breweries or chocolate, and warm socks are always a win! Favourites include Tooth and Nail, Thyme and Again, & Hummingbird"
WEEK 2
Winner: Erin Wake from Ottawa, Ontario
Stocking stuffer of choice: "I'd love to see some @alicjaconfect postcard chocolate bars in my stocking!!!"
WEEK 3
Winner: Meg Dalby from Ottawa, Ontario
Stocking stuffer of choice: "//LOCAL LOVE // I have loved the produce at Farm Boy since I moved to Ottawa, but the new Trainyards location is *something else*. Burger truck, pizza station, a bridgehead coffee, a locomotive driving around the store and all the fresh amazing products you already know. *Not* sponsored, just obsessed with this Ottawa gem. Santa can I have a gift card to eat lunch here every day?"
WEEK 4
Winner: Renee Marcil-Binette from Limoges, Ontario
Stocking stuffer of choice: "I know I'm asking for lots but here is a other place I would like in my stocking. @eldonsrestaurant look at that food!"