Residents can help the region's tourism economy rebound as 2022 approaches
OTTAWA, September 1, 2021—Ottawa-area tourism operators are grateful for the enormous support of locals who joined Ottawa Tourism's #Invite2 campaign that launched on July 14, 2021. Residents were quick to invite friends and family to visit Ottawa in support of the visitor economy and Ottawa Tourism encourages everyone to continue #Invite2 action this fall through to 2022!
Since moving to Step 3 on the Roadmap to Reopen on July 15, 2021, Ottawa has seen nearly a 50% increase in hotel room nights sold, compared to the same period in 2020, exceeding expectations for the summer. "This is extremely positive news," says Michael Crockatt, President and CEO of Ottawa Tourism. "But it's important to note that even this level of bookings is still down 30% from the same timeframe in 2019. In addition, our forecasts for occupancy during the fall and winter are not as robust as the summer has been, given the lack of meetings and conventions which typically fill hotels in September, October, and November. There is still work to be done to return the industry to its pre-pandemic levels."
Earlier, Ottawa Tourism had shared that if each household in Ottawa invited two people for a three-night stay in Ottawa sometime in 2021, that would inject more than half a billion dollars of visitor spending into the local economy and support the equivalent of 1,500 full-time jobs.
#Invite2 and win: for every local engaged in the campaign, Ottawa Tourism offers the opportunity to win a two-night stay for up to 4 people plus $200 in spending money for both the winner and their guest! Residents can also help spread the word of Ottawa events, attractions, and other capital experiences on social media to inspire others.
Inspiring reasons to #Invite2 into 2022 this fall and winter in Ottawa include:
Bluesfest and CityFolk on successive weekends
Fall Rhapsody in Gatineau Park
Pumpkinferno at Upper Canada Village
Interzip Rogers across the Ottawa River or a mountain coaster through the trees at Camp Fortune
Halloween at Saunders Farm or its new attraction The Sawmill at Lansdowne
Haunted Walk tours
Nordik Spa-Nature relaxation
National museum collections to explore
Ottawa Biplane Adventures - a spectacular way to experience fall foliage from above
Sporting events including Ottawa RedBlacks, Atletico Ottawa, and Ottawa Senators
Brew Donkey tours of local craft breweries and distilleries
Farmers' markets overflowing with bounty
Skiing, skating, snowshoeing
Ottawa Christmas Market
and so much more!
And when people do book at least a two-night stay in Ottawa via ottawatourism.ca before October 9, 2021, they have access to the Ottawa Experience Pass worth up to $200 with which they can redeem four separate coupons worth up to $50 each for attractions, tours, restaurants, and museums.
Download #Invite2 assets and more—including social media toolkit, images, videos, and an infographic.
About Ottawa Tourism
Ottawa Tourism provides destination development and marketing, strategic direction, and leadership in cooperation with its members and partners, welcoming leisure travellers, business travellers, group tours, and conventions to Ottawa and Canada's Capital Region. Its goal is to support the local tourism economy, fueled by an estimated 11 million visitors annually in recent years and with $3 billion in typical economic output for Ottawa, generating community wealth through tourism. Ottawa Tourism's vision is to offer the complete capital experience, tell the story of Canada, and get people talking.
For more information, please contact:
Jantine Van Kregten
Director of Communications, Ottawa Tourism
press@ottawatourism.ca
Julie Findlay
Knock on Wood Communications + Events
613-795-8463
julie@kowpr.com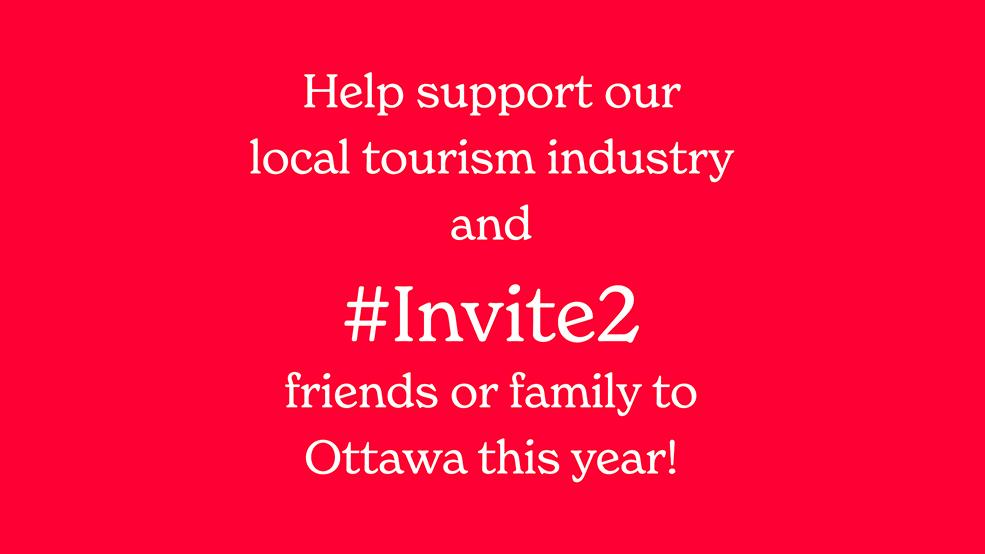 Most recent Ottawa Insider articles
Most recent Ottawa Insider articles