Ottawans asked to pledge to #Invite2 friends and family members to rediscover Canada's capital in 2021
OTTAWA, July 28, 2021—Next week, Ottawa Tourism urges residents to play an active role in the revival of the local tourism industry by pledging to invite friends and family to visit Ottawa this year. During #Invite2 Pledge Week, August 3-8, 2021, Ottawans are asked to pledge to #Invite2 friends or relatives to join them in Ottawa in 2021 and to fill their social media channels with images and graphics that spread the word and inspire others to do the same.
It's all part of the #Invite2 campaign which launched on July 14, 2021 to encourage locals to discover, rediscover, and share the wealth of both returning and new attractions and activities in and around Ottawa. Via social media, the campaign works to convert #Invite2 pledges and hashtags to real local engagement that celebrates pride of place, supports local business, and generates employment.
"It's no secret that tourism businesses have been the first-hit and hardest-hit by the pandemic and will take the longest to recover," says Michael Crockatt, President and CEO of Ottawa Tourism. "Yet if every household in Ottawa invites just two out-of-town guests for a three-day visit, that will pump half a billion dollars into our visitor economy and support the equivalent of 1,500 jobs!"
Almost all of the region's tourism businesses are open—all with new protocols and some with capacity limits—and they are eager to serve. There is no better time to fall in love all over again with the national capital region.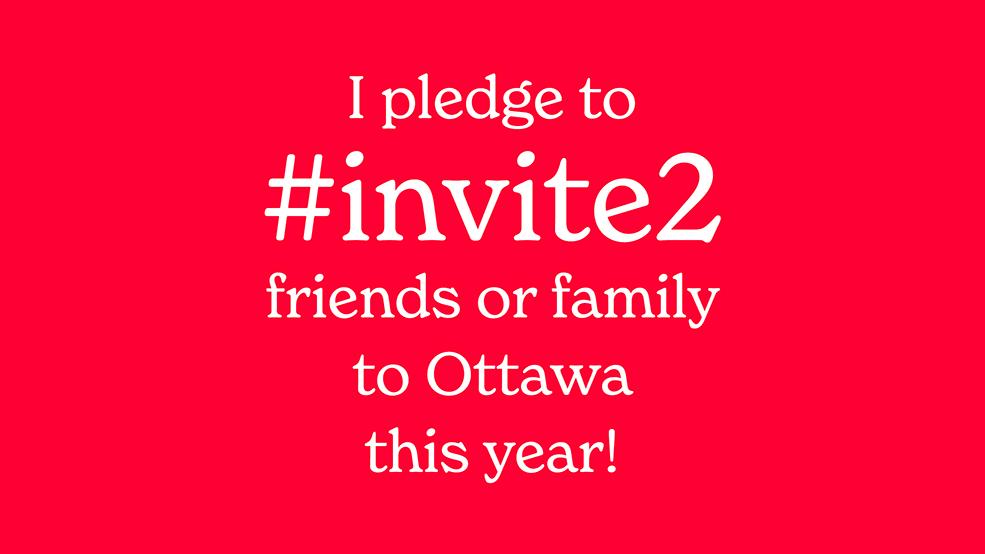 Everyone can access #Invite2 Pledge Week resources including social media ready images, photos, infographics, and video clips. A curated collection of activities, shopping and dining destinations, farmers' markets, cultural attractions, and special ticketed events can also be found at Together again in Ottawa.
As well, the #Invite2Win contest gives Ottawa and Gatineau residents a chance to win a two-night stay at an Ottawa hotel for up to 4 people and $200 CAD spending money per person. Full contest details are available online.
When people do book at least a two-night stay in Ottawa via ottawatourism.ca before October 9, 2021, they gain access to the Ottawa Experience Pass with which they can redeem four separate coupons worth $50 each for attractions, tours, restaurants, and museums.
About Ottawa Tourism
Ottawa Tourism provides destination development and marketing, strategic direction, and leadership in cooperation with its members and partners, welcoming leisure travellers, business travellers, group tours, and conventions to Ottawa and Canada's Capital Region. Its goal is to support the local tourism economy, fueled by an estimated 11 million visitors annually in recent years and with $3 billion in typical economic output for Ottawa, generating community wealth through tourism. Ottawa Tourism's vision is to offer the complete capital experience, tell the story of Canada, and get people talking.
For more information, please contact:
Jantine Van Kregten
Director of Communications, Ottawa Tourism
press@ottawatourism.ca
Karen Wood
Knock on Wood Communications + Events
613-864-9568
karen@kowpr.com
Most recent Ottawa Insider articles
Most recent Ottawa Insider articles